The Forum for Family Planning and Development
Working together for the Filipino Family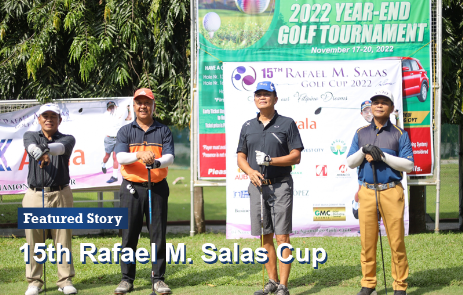 The Forum hold the 15th and the last Rafael M. Salas Cup last 04 November 2022 (Friday) at the Camp Aguinaldo Golf Club (CAGC). With the theme "Achieving Our Filipino Dreams", the Salas Cup had the full and total support of the recently departed former President and The Forum's Eminent Person, Fidel V Ramos. He himself was an avid golfer and actively participated in the tournament. The FORUM dedicated the last SALAS CUP in his honor.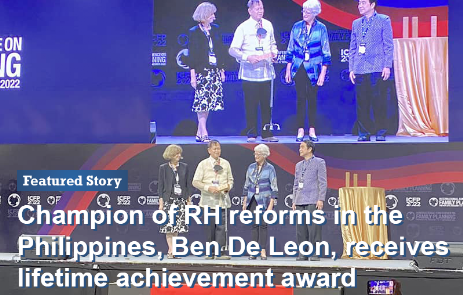 Benjamin De Leon, who helped pave the way for reproductive health reforms in the Philippines, has just been honored with an international lifetime achievement award.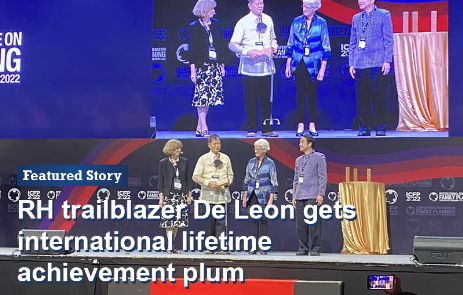 Benjamin de Leon, a Filipino whose advocacy helped pave the way for crucial reforms and policies on reproductive health in the Philippines, was given a Lifetime Achievement Award in Family Planning and Reproductive Health at the 2022 International Conference on Family Planning (ICFP) this week
.
Established in 2004, The Forum is a non stock, non profit and non governmental organization composed of experts, well known personalities and supporters of population management, health, nutrition and family welfare, who are highly committed to make a difference in people's lives.
It works with existing local alliances and networks with similar advocacies. The Forum supports and strengthens institutional linkages with the private and business sectors and academic community through advocacy, capacity-building and awareness-raising initiatives
.
The Forum is a leading voice in the advocacy of national policies on population management, health, nutrition, and family welfare and in the provision of universal access to information and service for all Filipinos especially the poor and the youth
.
The Forum actively collaborates with influential persons and decision makers from public and private/business sectors, the academe, the media, and the youth in advocating sound population policies and effective family planning and nutrition programs to improve health and welfare of Filipino Families.
It encourages the active involvement of key stakeholders in the provision of information, advice and services in reproductive health and nutrition as critical element in the economy and society's well being.
The specific issues that The Forum addresses is the acute dearth of information and services on population management, health, nutrition and family welfare for the underserved population. While efforts had been made to solve this problem in the past, the ability to adequately and continuously meet this need is overtaken by yearly increases in population
.
To resolve this critical issue, The Forum will bridge this information and service gaps among the poor and the youth, on population management, health, nutrition and family welfare in selected areas of the country. This will be accomplished by enlisting the voluntary assistance of prominent people in the private sector, as well as in the academe
.
To achieve this goal The Forum proposes to carry out a three-pronged strategy:
First, it sets up a roster of well know individuals to help managers and implementors of population management, health, nutrition and family welfare programs;
Second, it draws assistance from international, national and local associations and appropriate agencies to support the roster of experts and its activities; and
Third, it develops youth and future community leaders by encouraging their participation in the Forum-initiated population management, health, nutrition and family welfare through capacity-building and advocacy interventions including strategic leadership training and communication programs.
The Forum serves as a platform in the Philippines and in Asia where the best minds will debate and draw attention to these critical issues of population management, health, nutrition and family welfare
.
The Forum has designed programs of action along the strategies, outline above, to ensure that the dearth of information and services is sufficiently addressed and the lack is minimized.
It has mounted a two-pronged advocacy program: one that focuses on the top-level decision makers of academic institutions and chief executive officers (CEOs) of business and industry including labor organizations; the other that focuses on community leaders, youth and influential persons, particularly heads of civil society organizations (CSOs). The purpose of this program is to advocate for private sector leadership and participation, mobilization and resource generation.
It has endeavored to make issues relating to population management, health, nutrition and family welfare an integral part of existing and future programs and initiatives of government and private sector.
It serves as a resource center for information services and capacity-building and aims to make this institution a center of excellence. In doing this, it collaborates and networks with the government, CSOs including youth and media to address the aforementioned issues
.
H. E. Fidel V. Ramos +

Former President of the Philippines
H. E. Cesar E. A. Virata
Former Prime Minister of the Philippines
Washington Z. Sycip +
Mercedes B. Concepcion, PhD
Oscar M. Lopez
Chairman Emeritus, Lopez Group Foundation, Inc.
Loida Nicolas Lewis
Chairperson, TLC Group, Inc.
Edcel C. Lagman
Representative, 1st District Albay
Ramon S. Ang
Corazon M. Raymundo, PhD

Juan Antonio A. Perez III, MD
Maricar (Chi) L. Vallido
Jose Miguel R. de la Rosa
Janina Carine S. Medina-Fariñas
Xavier Roque MC Murray Peredo
Amina Evangelista Swanepoel
Emee Lei E. Albano-Valdehuesa
Jonathan David A. Flavier, MD
Leticia R. Shahani, PhD +
State of Family Planning in the Philippines
Thank You to our partner frontliners!
A Patient Revolution Reproductive Rights in the Philippines
The Forum for Family Planning and Development, Inc.
Room 305, Ang Bahay ng Alumni, Ramon Magsaysay Avenue,
UP Campus,
Diliman, Quezon City, 1101 Philippines
Email:
forumforfp@gmail.com